New Haven Motorcycle Accident Attorneys
Helping Victims of Drivers' Negligence Recover Compensation
After a motorcycle accident, you may be in pain and experiencing some of the lowest moments of your life. As if physical injuries aren't challenging already, you may also be dealing with emotional trauma from your accident and be thousands in dollars in debt as a result of medical bills and property damage.
You may feel like you're out of options and isolate yourself in your suffering. Our New Haven motorcycle accident attorneys are here to relieve you of your burdens and remind you that you're not alone.
Action Law Group has helped Connecticut injury victims get back on their feet for more than 40 years and can use our past successes to help you, too. We go after the maximum amount of compensation possible for clients, especially those who have suffered more serious injuries that can thus be more costly to treat. Motorcycle accident victims are vulnerable and deserve to be treated with compassion.
Contact us online or by phone today at (203) 439-3143 for a free consultation regarding your injuries. Our motorcycle accident lawyers can investigate your accident, gather evidence, and much more in order to help you heal.
How Do Motorcycle Accidents Happen?
While motorcycle accidents can be caused by the same factors that cause other car accidents, there are also some unique causes to be aware of – causes that can result in catastrophic injuries.
Motorcyclists are 27 times more likely than car occupants to die in a crash per vehicle mile traveled and are more than five times as likely to be injured. This is because motorcyclists lack the protection that car occupants have like seat belts, and the sheer size and weight of cars and trucks can be deadly in a collision.
The most common causes of motorcycle accidents include:
Lane Splitting
This occurs when motorcycles ride between two lanes of traffic. While legal in many states, some drivers are relatively unsure of how much room to give motorcyclists and often cut them off when changing lanes.
Car Doors
Drivers are expected to make sure the road is clear before they get out of their cars when parked on the side of the road. Sometimes, however, this doesn't happen, and drivers have been known to cause accidents by opening the door in the lane of oncoming motorcyclists.
Driving Under the Influence
Everyone on the road is in danger when a driver is under the influence of drugs or alcohol. Impaired driving reduces reaction times, can result in reckless behaviors like speeding, and can also result in fatigued driving or riding.
Speeding
Speeding is one of the leading causes of all motor vehicle accidents because so many drivers and riders do it.
It can:
Reduce your ability to respond to emergencies quickly
Cause you to lose control of your vehicle
And cause serious damages because of the force of impact
Unsafe Lane Changes
Drivers are expected to make safe lane changes by signaling and checking their blind spots. When they fail to do so, they often put motorcyclists, who are notorious for being hidden in blind spots, in harm's way. Motorcyclists are often cut off in their own lane or hit by merging cars.
What Are Common Injuries Caused by Motorcycle Accidents?
All motor vehicle accidents can result in injuries like whiplash, sprains and fractures, cuts and abrasions, and more, but motorcycle accidents are more likely to result in severe injuries like:
Broken bones
Paralysis
Spinal cord and neck injuries
And head and brain trauma
It's important to seek medical attention immediately after your accident to ensure your symptoms are diagnosed and properly treated.
What to Expect from Insurance Company Adjusters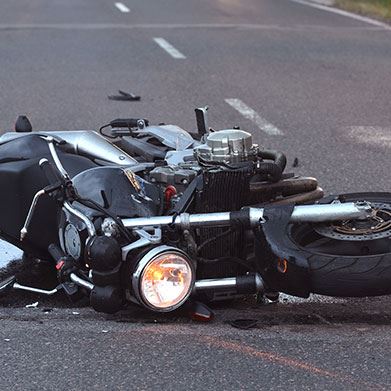 After an accident, you may be confronted by an insurance company adjuster to collect information from you regarding the accident. It's important to know, however, that insurance adjusters often attempt to collect information that they can use against you in your case to undermine your claim and avoid liability altogether.
Insurance adjusters aren't your friends. Fortunately, one of the many things our attorneys can do for you is handle all communication with insurance companies so you have one less thing to worry about.
Contact the Attorneys at Action Law Group Today!
We look out for our clients to ensure they're not being taken advantage of by entities who don't care about their well-being.
Your health and your future matter to us, which is why we fight to recover damages like:
The costs of medication and hospital stays
Property damage
Pain and suffering
And lost wages or future earning capacity
Action Law Group is here to fight for you. Reach out to our experienced team of personal injury attorneys to get started on your case today.
For compassionate, client-focused service you deserve, call our motorcycle accident attorneys in New Haven at (203) 439-3143 or contact online. We give each of our clients individualized attention and unique solutions that benefit them and their futures.
Real People, Real Stories
What to Do After an Accident
If you've been injured in an accident, the most important thing to do is seek medical treatment. A medical professional can treat your wounds and prevent them from getting worse and can diagnose any health conditions that may not be apparent. Sometimes symptoms that people shrug off, like headaches, can be indicators of a more serious injury, like brain trauma.
After you've been treated, hire a personal injury attorney to get started on your case as soon as possible. Our attorneys can put our decades of experience to work for you by collecting evidence to strengthen your claim and increase your chances of winning your case. When we take over your case, you can focus on resting.
Call our New Haven attorneys at (203) 439-3652 to obtain the fullest compensation possible in your personal injury case. We strive to remain as accessible to our clients so we can answer your questions when you have them.
Excellent service and communication - Resa M.

Joe is a class act... - Allan M.

Attorney Ametrano took such a difficult case and fought hard for me - Client

He cares deeply about his work and his clients - Kevin W.